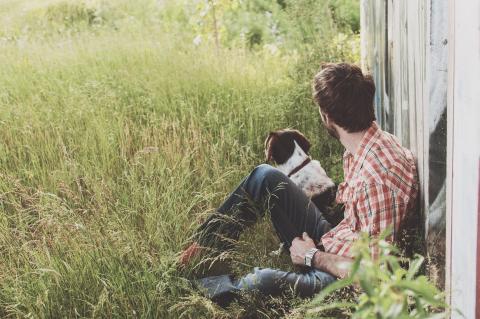 2020 is upon us and with it, the new decade brings promises of positive lifestyle changes. While most people are focusing on changes that will make there own life better, the experts at Dog Sense came together to come up with some great ideas for New Year's resolutions involving your dog(s).
 
1. Train Your Dog More
New Year's resolutions often revolve around doing more of something. Maybe someone wants to go to the gym more, exercise more to lose weight, or take their significant other on more dates.   For someone who wants to involve their dog in their New Year's resolution, an obvious choice would be to train their dog more! You know that awesome trick you saw once on Youtube, Try it!  Go out and make 2020 the year that you and your dog manage to pull that amazing trick off! Remember, the amazing staff at Dog Sense in Lancaster, PA can help you accomplish your dog training needs.
2. Get More Active with your Dog
If your dog is one that needs, or enjoys, a lot of physical activity why not make 2020 the year you and your dog both get as much exercise as possible. If you enjoy the outdoors, finding dog-friendly hiking trails can be a great way to get some exercise and see some great scenery. If hiking is not your scene, going for a run with your dog can be another great way to stay active with your pup. If those ideas do not appeal to you, getting into dog sports with your dog can be a rewarding way to get active. There are a lot of different dog sports to get involved with like agility, flyball, frisbee, and dock diving just to name a few. If you need any help training for dog sports do not forget to give us a call!
 
3. Socialize with your Dog More
Socialization is extremely important for dogs. As puppies, it is important you socialize your dog so it grows to be confident. As adults, it is still important for your dog to get socialization for a number of reasons. Unfortunately, socializing dogs is an often overlooked part of training your dog. Fortunately, there are a large number of ways to socialize your dog! One of the easiest ways is to just take your dog for a walk through populated areas nearby like cities, towns, or parks. If it is socialization with other dogs you seek, a local dog park can be a good way to get your dog playing with other dogs. However, there is no way of knowing if all of the dogs at your dog park are friendly, or if they will potentially be aggressive. A better idea may be to go the extra mile and get your dog enrolled at a local dog daycare. Dog Sense has just that in Lancaster, PA, where our experienced staff will make sure your dog only plays with friendly dogs with appropriate play styles, minimizing the risk of conflict.
 
4. Focus on Shedding your Dogs Extra Pounds
A rise in high calorie, low nutrient, food is not just a problem for humans. It is having a large effect on the health of our dogs as well. However, dog owners are also to blame for becoming complacent and allowing themselves to feed their dog's unhealthy snacks and foods. With obesity on the rise with dogs, it is important that dog owners take it upon themselves to know what they are feeding their furry companions. Aside from feeding healthier foods, make sure that you get your dog all of the exercise that it needs to live as healthy of a life as possible. Dog Daycare visits, and training your dog can help with this!
 
5. Take a Scent Work Class with your Dog
Scent work is another great dog sport that you can do with your dog. It can be an difficult sport to get into, that is why we offer a scent training class at Dog Sense in Lancaster, PA! The next session starts on January 12th and is $80 for the four-week session.