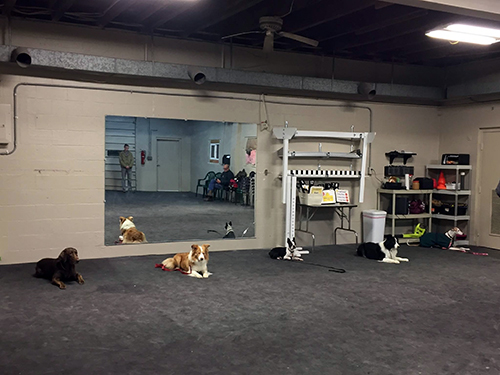 No time to train your dog? Let us assist you! We offer two and four week board and train programs customized to your dog training needs. Whether you are lacking time, and need assistance training your dog or maybe you have a new puppy and didn't realize how much time puppy training takes? Perhaps you already have a 1-2 week vacation planned and need dog boarding during that time, and would like to take advantage of a dog training "tune up" to help improve your dogs behavior. What ever your puppy training or dog training needs, we have a program to help.
Our Program
All of our programs begin with either a phone or in-person consultation to review your dog training goals and explain our dog training programs with you as well as assess the suitability of your dog for this type of training. This consultation is included in the cost of training, however we do require a non-refundable $100 deposit to book the consultation and hold a spot in our program for your dog.
While your dog is with us, he will receive one or two daily dog training sessions five days a week with one of our trainers, ongoing positive social interactions with the rest of our staff who will also reinforce good behavior such as sitting for attention and coming when called. Your dog will also receive regular daily exercise, 1-2 hours based on its age and physical condition, and play time with other dogs if approved.
Our board and train program utilizes the same gentle, positive-based dog training and puppy training techniques that we teach in our classes and private lessons. However your dog stays with us for 2 to 4 weeks while learning. At the completion of our Board and Train dog training program, we meet with you for a review of your dogs skills and a coaching lesson for you in how to maintain and further develop those skills at home.
Positively Perfect Puppy
2 weeks $1000, addl two week add-on $800
Puppies 12-16 weeks
Our Positively Perfect puppy training program is open to puppies 12-16 weeks of age. A young puppy fee of $100 and a special young puppy waiver may apply for puppies under 12 weeks of age. (Younger puppies considered on a case by case basis.)
Skills taught: 
Crate Acceptance
Sit for Greeting
Go to your place
Sit and Down
Loose Leash Walking
Drop it/Leave it
Come when called
*socialization, acclimation, and confidence building skills as needed
Brilliant Beginners
2 weeks $1200
Any age
Our Brilliant Beginners program is suitable for any dog who needs dog training for the basic skills.
Skills taught:
Sit and Down
Sit for Greeting
Go to your place
Heel
Stay
Drop it/Leave it
Come when called
Practice Program
$375 per week, One week minimum
Any age
Our Practice Program is a dog training program designed to provide either refresher training or continued practice for dogs who have trained with us previously.
Problem Pups
$1500 per week, 2 week min.
Any age
Our problem pups program is for any dog owner struggling with issues with their dog, including but not limited to: Self Control Issues/Reactivity, Hyperactivity, Fear based Sensitivities, etc. We have the right to refuse any dog we feel is a danger to itself or others. We do not work with certain aggression cases. The dog must show a readiness to work with us, and must be comfortable enough in the kennel setting to eat, play, and display its normal behavior or the dog may be sent home. If a dog is sent home, only the unused portion of the stay will be refunded.
Don't want to leave your dog boarding with us overnight? Consider our stay and train day training program instead. Drop your dog off in the morning, pick him up at night, or let our puppy bus do the transportation for you. Pricing ranges from $30-40 per day, and your dog must attend a minimum of twice per week
We have other programs available including a two week Canine Conditioning program for plump pups, and customized programs specific to your dog training needs. Specialized programs run $750-1500 for 2 weeks based on intensity of the program.
Our boarding policies for Board and Train dogs are the same as our regular boarding.  Please review them here.  We do require a $100 deposit for all Board and Train reservations, and payment of the first week when you drop your dog off.