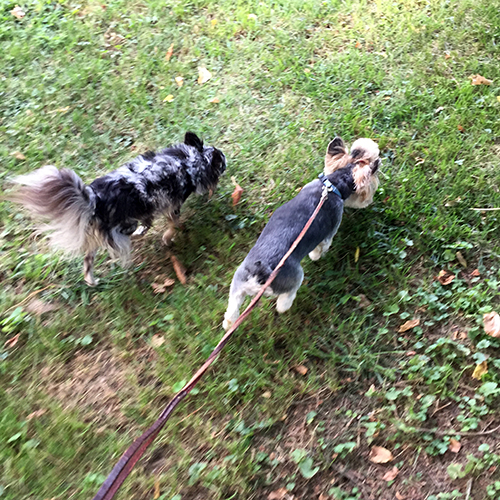 Our daycare program is currently full to new clients. We maintain a waiting list, wait time is generally 1 to 4 months. We apologize for any inconvenience, this is a popular program. If you would like to be added to the waiting list please read the additional details on our program and then contact us.
Our regular daycare program at Dog Sense provides a safe, stimulating environment for your dog to play and have fun while you are at work or traveling. Your dog will learn dog-to-dog etiquette through supervised play time with other dogs and enjoy quiet time in the company of other dogs.
If your dog needs more than just playtime with pups, we now have a Tier 2 level of daycare! Our Tier 2 level of care is a "Dayschool" appropriate for puppies, dogs who don't play well with others, and any dog who needs additional training or a more specialized program. Our Tier 2 level of Daycare includes one on one training time with a staff member, group or private play with other dogs, and activities such as agility, nose work, and enrichment activities. Basic commands such as sit, down, stay, place, come, and heel are taught or practiced.
Most of our daycare play takes place outdoors in our play yard, however in extreme weather we play at our indoor climate controlled training building.
Over the last several years, dog daycare has become increasingly popular with dog owners throughout Pennsylvania. Studies show that dogs derive several benefits from a daycare setting, including:
Safe Environment
At DogSense, your dog's safety and well-being are our top priority. Dogs are never left unmonitored while with other dogs. When alone, such as when a dog needs to be rotated out of group play, dogs are checked on every 30 min., and are let out to potty every two hours. Water is available at all times, and dogs are monitored while eating. As scrapes, bumps and other minor injuries are always a risk when groups of dogs play together, dogs are visually inspected before and after play.
Tired dog = Content dog
Dogs that run around, play, and learn are far more likely to be happy than a dog that spends his days in a cage or alone in a yard. Moreover, a tired dog is often more content, a positive feeling from which its owner also benefits.
Social skills
Dog daycare is one of the best environments for a dog to develop its social skills – not just through its interactions with other dogs, but with other humans as well. Consistent socialization builds confidence and self-assuredness within a dog, helping him remain calm in potentially stressful situations.
Routine is Good
Like most animals (and humans), dogs are creatures of habit who function best when they have a general routine to follow. If you find it difficult to maintain a consistent routine during the work week, and struggle to find the time to care for your dog, our pet daycare in Lancaster will help ensure that your pup receives a regular diet of the exercise, training, and social interactions.
Our daycare schedule is as follows:
7:30 - 9:00 Arrival, potty breaks as needed
9:00 - 11:30 Group play
12:00 Nap time
2:00 Outdoor Group play for approx. 20min-2 hours depending on departure time, each dog's individual needs, and weather
2:00 - 6:00 Departure 
Pricing
Regular Daycare $25 per day/$22 if prepaid and reserved by the month

Reservations due by the end of the preceding month 

Tier 2 "Dayschool" $33 per day

Dog must attend a minimum of twice a week, three times is recommended for the best training results
Reservations must be made by the month to assure your dogs spot in this program
Transportation Available
Want to send your pup to school, but don't have time to pick up or drop off? Our Puppy Bus service will pick up your pup in the morning and/or drop off in the afternoon, as needed. Pricing starts at $.60/mile. Transportation available Monday-Thursday mornings and Tuesday through Thursday afternoons. Transportation is only available for regularly attending dogs, and must be reserved on a consistent basis at least once per week. The bus runs 6:15-9 am and 4-5:30pm.  Pick up/drop off times will be determined by your address. You must be available to bring the dog to and from the Van. Other times may become available if requested. 
Please see our Daycare Policies for additional information.