Tier One $28 per day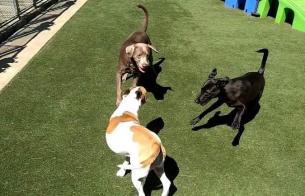 Our tier 1 boarding program has been discontinued except for dogs who cannot participate in our Tier 2 level due to age, health, or behavior.
Tier Two $38 per day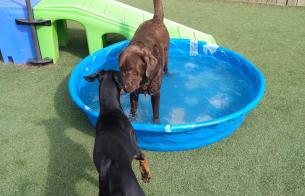 Private indoor suite with dog door access to outdoor private run
Climate Controlled environment
*Raised Bed for comfort or soft pad
Free biscuits at bedtime
Access to our full daycare program if approved to play with others
1-2 private playtime sessions each day, if not approved to play with others
Extra walks as needed
Mealtime twice per day
1 filled Kong - Kong can be filled add'l days for a small fee
Additional Add Ons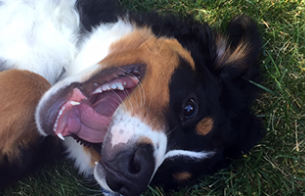 Stuffed Kong $3
Bath/Brush/Nails: $25 dogs under 40lbs, $30 over 40lbs
Coat brush outs $5-20 (based on type of coat)
If you call at the last minute and we are full, overflow boarding may be available. Overflow boarding requires more staff hours on our part and so unfortunately with staffing demands we will need to charge an additional $10 per day for this option.
New customer, in person evaluations $40 credited to first stay if approved. Some dogs may be able to be approved via phone consultation rather than in person Approval does not guarantee a reservation. Rush approval additional $10.
Our rates are charged by the day. Drop off/Pick up between the hours of 8:00-11:30am and 2:30-5:30pm M-F. Weekend hours are Saturday: 8:00-11:30am, and Sunday: 4:00-6:00pm. *Weekend pick ups by appointment January-March
Please see our Boarding Policies for additional information on what you need to know/bring before making your reservation!
For the health and safety of our dogs, we are not currently allowing tours or visits.
*Dogs may refuse to use their beds. Ask us how we handle this.
Also for your dogs safety, please inform us if your dog is a chewer.