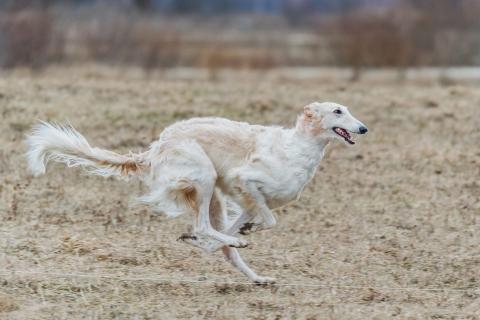 Have you ever been to a Fast CAT event?
No… it's not an event where cats compete to see who is the fastest. Fast CAT stands for Fast Coursing Ability Test.
Fast CAT events are a great way to quench your dog's competitive thirst and tap into its natural instincts.  
Here at Dog Sense, along with our other business Drake's, we are excited to announce that we are sponsoring the first Fast CAT event hosted by Lancaster Kennel Club from June 30th to July 2nd.
What is Fast CAT?
In Fast CAT, dogs compete against their own breed on a 100-yard course while chasing a lure. The fastest dogs are then determined in mph to determine the winner of each breed.
The AKC's website lists the fastest times, and the top dogs in each breed get an invite to the yearly invitational in Orlando, Florida.
Fast CAT events aim to provide a fun and engaging activity for dogs and their owners while emphasizing the importance of mental stimulation and physical activity.
The events are open to all dogs registered with the AKC if they are at least twelve months old.
Preparing for an Event
A healthy dog is essential for success during Fast CAT; if there are any concerns, consult your vet.
It is also wise to consult with your vet on a training regimen for your dog, especially if they should be more active.
Be sure your dog has an adequate level of obedience also.
No one wants to be the person whose dog goes crazy off-leash and won't obey your recall after they have chased the lure. A proper recall is also key for the safety of all dogs and handlers involved with the event.
Remember, just because your dog is always friendly does not mean all other dogs at the event would be excited for a loose dog to run up in their face. 
Some dogs will have more natural motivation to chase the lure than others, which is ok! However, if you know your dog may be lacking in the motivation department, be sure to start building that drive with them.
Using a flirt pole or a similar toy can help build your dog's excitement and focus on the lure. Building up their prey drive before Fast CAT events makes things more enjoyable for you and your dog.
Lancaster Kennel Club's First Event
The first Fast CAT event by the Lancaster Kennel Club is at the Lampeter Fire Company, 851 Village Rd  Lampeter, PA. It will run from 8 am until all runs have been completed.
To enter, check out the Fast CAT Events website. Entries are open until June 21st. Any attempt to enter after the 21st is not guaranteed to be successful.
We would love to show the Lancaster Kennel Club that we are not only sponsoring the event but also supporting it.
So, we would love for you to register, as it will be a fun time.