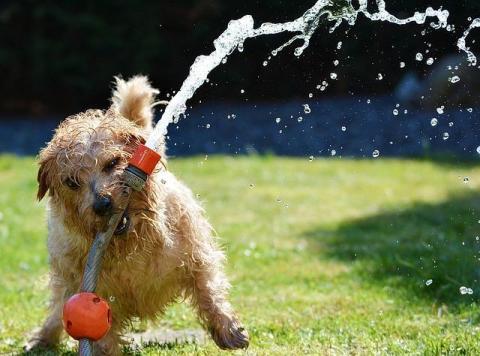 Summer is right around the corner, and for many people that means planning their next memorable summer vacation. We understand that some destinations aren't practical for bringing your dog along on your adventures, but no worries: At Dog Sense, our safe and comfortable kennel suites and play areas will serve as your dog's very own summer break spot.
Pre-Boarding Tips
Before we discuss some of the things that make Dog Sense so special, here are several handy tips to help you prep for boarding your dog during the summer. 
Start Your Search Soon
As much as we'd like to be your one and only choice, we understand the importance of shopping around for the right kennel. That said, it's important not to wait until the last minute before starting your search for your dog's summer quarters. Kennels fill up fast, especially multifaceted (boarding, training, grooming, etc.) like ours.
Don't Wait To Book Your Spot
Hand in hand with getting a head-start on your kennel search is to avoid delays in booking your spot. Don't search out your top kennel choices and then sit on the information for a few weeks. Instead, book your dog at a kennel as soon as you've decided on a boarding facility and confirmed the dates of your vacation.
Ensure Your Dog's Vaccines Are Current
Any experienced dog kennel will require proof of vaccinations, but many vary in their specific requirements.  In order for a dog to be eligible for boarding at Dog Sense, the following vaccinations are required:
● Distemper/Parvo, see our boarding polices for specifics 
● Rabies vaccination for all dogs age 12 weeks or older
● Bordetella, administered at least 10 days before your dog's stay
For our complete vaccination and health requirements, please visit our website or contact a team member. 
Your Dog Will Love It Here
Dog Sense epitomizes the term "full-service dog kennel". Along with a first-class boarding experience that includes playtime, walks, free biscuits, your dog can take advantage of our exemplary grooming and training programs. Our training ranges from pet training to competition skills, and our grooming services include teeth cleaning, nail grinding, and deshedding treatments as well as a full trim.  
Book Your Dog's Summer Stay Today
Outstanding dog boarding and dog daycare in Lancaster is right around the corner at Dog Sense. Our kennel fills up fast, so contact us today and let's discuss the perfect boarding program for your dog.