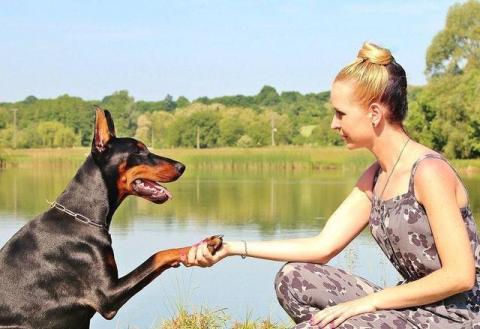 When you choose Dog Sense for your dog boarding needs, you can also have your dog trained by one of our highly experienced trainers. This is a fantastic opportunity to give your pooch the vital behavioral skills it needs, while taking much of the "training burden" off of your shoulders.
Training Programs We Offer
Dog Sense offers several comprehensive training programs covering various disciplines.
Board and Train Program
Our board and train program is perfect for busy dog owners who want their pet to receive professional training. We offer two- and four-week fully customizable training programs tailored to your dog's specific needs. And after training your dog, we'll meet with you to discuss steps to reinforce the training and maintain the skills your dog has learned.
Both programs necessitate boarding your dog with us for the entire program duration. Along with training, the program includes an initial consultation, a departure lesson, and a follow-up lesson to ensure your dog's understanding of its lessons and to improve the chances of long-term success.
Stay and Train Program
If you want to give your pet the best dog training but don't want to leave him overnight, consider our Stay and Train program. This way, you can either drop off your dog in the morning and pick him up at night, or schedule your dog to be picked up and dropped off on our puppy bus.
Basic Pet Training
This program covers basic commands, good manners, and problem-solving for jumping, barking, etc. Our Puppy Kindergarten is for puppies 9 - 16 weeks old, and our Beginner Manners class is for puppies/dogs 16 weeks - adulthood. Upon completing Beginner Manners, you can enroll your dog in our Advanced Manners program, which focuses on off-leash control and increases reliability in terms obeying commands.
Competition Training
We offer several competitive training programs geared towards preparing your dog for competition. These small classes (4 - 8 dogs) encourage camaraderie amongst dogs and an exchange of ideas between owners. Specific to conformation handling, our drop-in class is ideal for dogs and handlers of all levels who want more training for the conformation ring. This class is a must for owners and dogs who have their hearts set on serious competitions and national dog shows.
Boarding + Private Training
If you're planning a vacation or a business trip and want to board your dog with us, why not add private training and give your dog the chance to broaden its social attributes and discipline skills while you're away? Here's a tier breakdown:
Tier One ($22/day)
Includes:
Climate-controlled environment

Two meals per day

Private suite with dog-door access to our outdoor private run

Soft fleece blanket (if needed)

Free bedtime biscuits
Tier Two ($31/day)
Includes everything from Tier One, plus:
Extra walks as needed

Access to our full daycare program (if approved to play with other dogs)

1 - 2 hours of private playtime each day (if not approved to play with others)

Kuranda Bed for comfort
Private training can be added to either tier, and 100 percent customized to your goals.
For Professional Dog Training, Choose Dog Sense
Whether you're seeking puppy training, competition training, or adult dog behavioral training in addition to boarding, Dog Sense is the place for you. Contact us today – we'll discuss your schedule and goals, and price out the perfect training program for your dog.