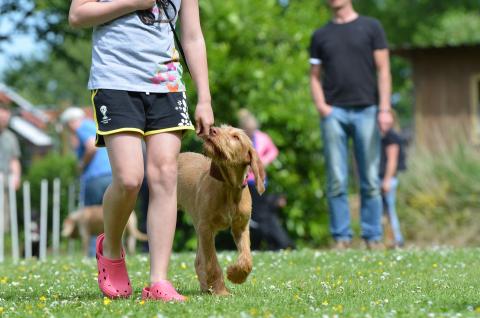 There are few things in life that can match the experience of getting a new puppy. If this is your first dog, the trainers here at Dog Sense are happy to welcome you to the world of dog ownership. Even though puppies are undoubtedly fun and cute, owning one can be overwhelming at first. If you want your puppy to be happy and comfortable in its new home, it's important to start training it from the get-go. 
Here at Dog Sense, our team of professional dog trainers are happy to share some puppy training tips.  
1. House Training
A common complaint of new puppy owners is that the dog doesn't know where to use the bathroom. Ruined carpets are common among new dog owners, so house training a new puppy is often a top priority. While schedules are important, we recommend keeping them flexible.  More important is learning to watch your puppy for signs he needs to eliminate, and getting him outside at key times.  Be sure to take your puppy out if you see him sniffing or circling.  Also take your puppy out immediately after eating, waking up, or playing.  
Increase the ease of house training by using a cue to eliminate.  As the puppy starts to potty, lightly say "Go Potty" or another phrase repeatedly as the puppy is eliminating.  Followed by praise.  We don't recommend using treats as their use may interrupt the process.  
​​​​​​​2. Using a Crate
A crate can be a good tool for dog training in the short term. Putting a crate in your home will teach him to hold it until you open the crate and let him outside. Crates also have the advantage of preventing your puppy from developing bad habits like inappropriate chewing. 
When purchasing a crate for your puppy, be prepared to either buy one for when he's a puppy and when he's older.  Or look for a crate that may already come with a barrier/wall you can use to change the size of the crate.  This type of crate can be purchased large enough to fit your puppy as an adult, but the adjustable wall will allow you to make the crate smaller for use while your puppy is young.  Do not put water in the crate, as the puppy will most likely spill it. During the day when you're not home, your puppy can stay in the crate for 3-7 hours depending on the age of your puppy.  The general rule of thumb is one hour longer than your puppy's age in months.  So a 2 month old puppy may be crated during the day for 3 hours, a 4 month old puppy should be ok for 5 hours.  
​​​​​​​3. Positive Reinforcement
Remember what's reinforced will be repeated.  For young puppies, positive reinforcement based training is best.  To further assure a fast rate of learning, we recommend using a behavior marker.  We teach this in our puppy class, and recommend starting as close to 12 weeks of age as possible.
​​​​​​​4. Professional Dog Training in Lancaster, PA
Here at Dog Sense, we recommend that new puppy owners seek coaching through our puppy classes.  Once your puppy has graduated from puppy class, we also offer an Intermediate Manners class and a Canine Good Citizen class.  We keep our class sizes small, 4-6 students per class.  Classes last for 6 weeks, and meet once a week for approx. 45 minutes.  As we realize group classes don't fit everyone's schedule, we also offer private lessons and board and train programs to help you train your dog!  
To learn more about training your puppy, give us a call at (717) 509-5652 or contact us online.