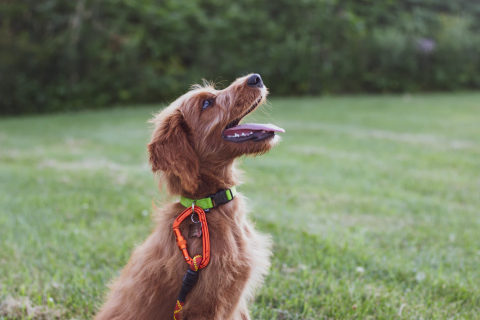 Training is a vital part of a dog's life. Besides providing mental stimulation which makes your dog happy, training also has the benefits of instilling good manners, building a positive relationship between dog and owner, and teaching important life skills. The science of dog training has greatly evolved in the past decade, so if you are considering a professional trainer, it is important to choose one that emphasizes reward-based training rather than punishment-based training.
At Dog Sense, our team of professional dog trainers in Lancaster, PA, led by Wendy Jordan, is prepared to give your dog the training that you desire. Our services include dog training, dog obedience training, and competition training. Here are some of the training programs that we offer.
Pet Training
During our basic dog training classes, basic commands are taught, as well as skills designed to help teach good manners and problem solving for behaviors such as jumping and barking. Our classes are small, consisting of around four to eight dogs, which encourages camaraderie and an open exchange of ideas. Here is the typical timeline of our pet training course.
·    Puppy Manners: The puppies are 9 to 16 weeks old at the beginning of this class.
·    Beginner Manners: The same class as our Puppy Manners class, but for dogs 16 weeks of age through adulthood.
·    Advanced Manners: In this course, adult dogs work on reliability and off-leash control.
Canine Good Citizen Class
The third step in training your family companion is our Canine Good Citizen Class. This class prepares dogs for the American Kennel Club's Canine Good Citizen Certification. The class stresses responsible dog ownership for owners and basic training and good manners for dogs. If you haven't heard of it, the Canine Good Citizen Certification is a rapidly-growing nationally-recognized program that serves as an excellent foundation for future training.
Competition Training
In addition to standard dog training, Dog Sense also offers the following obedience competition focused classes:
●     Rally Obedience
●     Pre-Novice
●     Novice
●     Open
●     Utility
●     Rally Obedience
In these classes, sizes are small, from four to eight dogs, and camaraderie is encouraged.
Conformation Handling Classes
We offer a drop-in class for handlers and dogs of all levels who require more experience in preparing or training their dog for the conformation ring. If you aspire to attend Westminster of the National Dog Show, this class is highly recommended.
We also offer a beginners scheduled handling class for new handlers looking to improve their handling abilities, and for beginner dogs needing to learn competition skills.
Dog Training in Lancaster
Dog Sense's Wendy Jordan has been offering dog training and daycare services to Lancaster County, PA dog owners since 2000. We have a beautiful country setting just a few miles south of the city, and we offer both indoor and outdoor play, training, and activities.
To learn more about our dog training courses, contact us at (717) 509-5652.