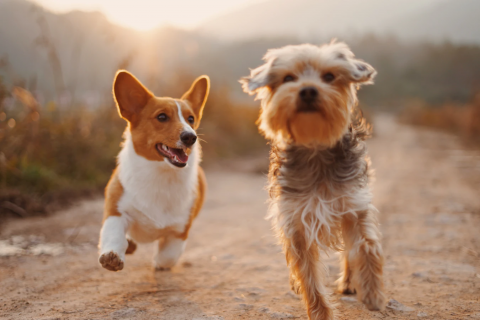 For busy adults, one of the hardest things about owning a dog is balancing your work schedule with spending time with your dog. Many people do not want to leave their dog cooped up in a small apartment or house while they spend their days at the office.  Luckily there is a simple solution to this dilemma. Sending your dog to dog day care, allows you to work hard while your dog plays hard.
Here at Dog Sense, we provide a variety of different services including boarding, day care, training, and grooming. The safe, stimulating environment at our doggy day care allows your pup to spend his or her days in the company of other dogs and our team of friendly dog experts.
1. Why Should You Send Your Dog to Day Care?
Many dogs are left home alone all day while their owners go to work. The lack of social interaction and playtime can lead some dogs to problem behaviors due to being poorly socialized or under exercised.  Excessive barking, Chewing, Hyperactive behavior, and Anxiety issues can all be caused by a lack of training, stimulation, and most importantly exercise. Here are a few major benefits of sending your dog to a kennel during the day.
Socialization:  Some dogs crave the companionship of other dogs. Learning how to act properly around other dogs, and being able to play with other dogs can help fill this need.   Doggy day care also allow dogs to spend time around new humans, improving their comfort level and sociability with people as well.  
Exercise: Staying cooped up indoors all day is not good for your dog's health. The doggy day care at Dog Sense ensures that your dog will be running around outdoors, playing, and staying fit. This will ensure that your dog is both happy and healthy.
Safe Environment: At Dog Sense, your dog's safety and well-being are our top priority. When at our doggy day care, dogs are never left unmonitored when they are with other dogs. Water is available at all times throughout the day, and Dogs are visually inspected before and after play.  Scrapes, bumps, and other minor injuries can occur during play, but we have also found lumps and bumps owners haven't discovered allowing the owner to seek proper medical treatment if needed. 
Routine: Dog or human, establishing a routine is important for maximum functionality. If you struggle to maintain a consistent routine during your work week, the dog boarding service at Dog Sense is happy to help.
2. Our Day Care Schedule
Because routine is important for a healthy dog, our doggy day care follows a set schedule as follows:
7:30 – 9:00: Arrival, potty breaks as necessary

9:00 – 10:00: Group play

10:00: Private training if enrolled

10:30: Group training and directed group activities

11:00: Group play continues

12:00: Nap time

2:00: Outdoor group play for 30 minutes to two hours, depending on weather and departure time
No time to drive your dog? We have an available puppy bus service that will drop your dog off at home in the afternoon. It will also pick your dog up in the morning, if requested. 
3. Dog Day Care in Lancaster, PA
Since 2000, Wendy Jordan has brought quality training classes, dog sitting, and dog day care to Lancaster, PA. We are set in a peaceful location a few miles south of the city that lets us utilize outdoor play and activities such as water play and obstacle courses.
For more information about our dog day care services, contact Dog Sense at (717) 509-5652.