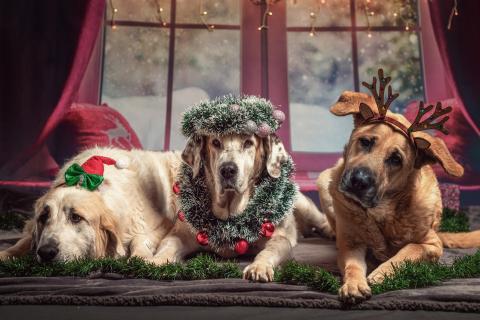 Last-Minute Ideas for Christmas & New Years with your Dog
If you are like us here at Dog Sense, you love to include your dog in the holidays!
Likewise, we know it has been a crazy year, and your furry friends may have been forgotten in your upcoming plans. Well, that's no problem because there are plenty of last-minute options for you.
Stock up a Stocking
An essential Christmas tradition for many can also be a lot of fun for your dog. Just grab a stocking (or a bag) and fill it up with some of your dog's favorite things!
We like to fill it with a nice mix of healthy treats to go along with long-lasting chewies and bones. Of course, every dog is different, so be sure to pick out what you know your pup would want.
Pet Store Shopping Spree
Anyone can go out, pick a gift, and wrap it to give to their dogs. But how many people take their dog to their favorite local pet store? (Whatever the answer is, we think it should be higher)
So why not make this Christmas even more special for your furry friend and let them pick out their gifts themselves!
Holiday Baked Goods
Who does not love food? Dogs love it, that's for sure.
You can make your holidays even more special by baking dog treats personally for your dog. Need a recipe? Check out this great one here.
Be sure that any ingredients you may use are safe for your dogs; many common human-safe ingredients may be toxic to your dog.
Include your Dog in your New Year's Resolution
Everyone loves the New Year, and it brings the promise of new beginnings and a chance at a better future. No matter how big or small your resolution may be, including your four-legged friend in your plans can be great for you both.
Maybe include an extra walk or hike in your daily routine. You could even start training and working towards that nifty new trick you've wanted to get to!
Whatever it may be, always remember to make it a realistic and obtainable goal.
The Holidays at Dog Sense
Have your dog stay here at Dog Sense in Lancaster, PA, over the holidays and in the future!

Whether it be for boarding, daycare, or our excellent stay-and-train program, we are sure you will be excited about our services.